Product Description




Avengers Figure Set.

Six Figures connected to a base.


Size: Approximately 3.75 Inches.

Released by The Disney Store.

Manufacturer recommended age: 3+
Note: The low resolution picture, shown above, does not capture the high clarity of the actual sign.
Note: The watermark text on the photos "Escape Collectibles" does not appear on the actual item.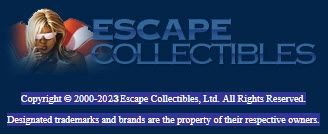 Find Similar Products by Tag
Find Similar Products by Category
Vendors Other Products
Product Reviews

This product hasn't received any reviews yet. Be the first to review this product!
Customers Who Viewed This Product Also Viewed