Product Description

Pin-up artist Keith Garvey is widely known for digitally rendering some of the sexiest pin-up girls created today. Keith's fans refer to his pin-up girls as "Garv Girls"

:





Signed by artist Keith Garvey.

Certificate of Authenticity (COA) included, signed by the artist.

High quality color print on acid-free Premium Luster Photo Paper - Specs: 75lb (300gms) 11.8mil. with archival inks.**.

Print is returned to us signed directly from the artist.

Keith Garvey's original art and hand signed prints are sold exclusively by Escape Collectibles, Ltd.

**Our prints are produced on state-of-the-art Epson professional grade printers engineered for the most discriminating professionals providing exceptional professional print quality. Our printers use the most up-to-date ink technology with a high-density form of archival grade pigments which produce an enhanced color gamut. Ink droplets as small as 3.5 picoliters and placed with remarkable accuracy and precision producing gallery-quality prints.

(NOTE: All prints will have a white boarder to allow for matting and framing so the image will be a bit smaller than the actual paper size.)



Note: The low resolution scan, shown above, does not capture the high clarity of the actual print.

Note: The watermark text, "escapecollectibles" on the photo does not appear on the actual item.

AUTHORIZED ARTIST
DEALER INFORMATION:

ARTIST INFORMATION:

Keith Garvey

Keith Garvey was young when he developed a real love of drawing. At the age of 10, he was inspired by the works of comic book artist, Jack Kirby. By the age of 12, Garvey was studying the exceptional rendering of the female form by the world famous pin-up artist Alberto Vargas, whose girls were featured in Playboy?s monthly magazine. After sneaking the Playboys into his room, he saw Vargas? girls as a works of sensual art rather just nude girls.

Admiring the beauties painted by Vargas and what became known as; "Varga Girls" set Garvey?s artistic direction. From then on his focus was perfecting his interpretation of the female form onto paper and canvas. He was also influenced by other famous pin-up artists, whose art fits well into the category of ?Glamerotica?, exemplified through the works of Japanese artist, Hajime Sorayama.

Offering a refreshing mixture of vintage and modern day glamour art, Garvey began to digitize his drawings and continues to impress all who appreciate the beauty of a woman.

Keith Garvey lives in western New York and holds a degree in commercial art from the Institute of Pittsburgh.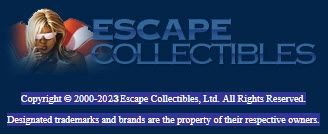 Find Similar Products by Category
Vendors Other Products
Product Reviews

This product hasn't received any reviews yet. Be the first to review this product!
Customers Who Viewed This Product Also Viewed